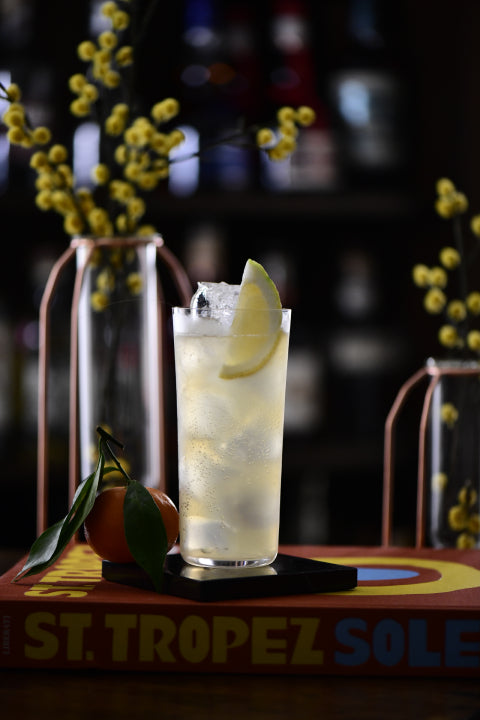 You may have found memories of finding these at the bottom of your Christmas stocking but did you know that Santa was onto something? The origin of clementines is debated but generally attributed to a hybrid from the Algerian garden of Marie-Clément in 1902. Clementines have been called the crown jewel of the citrus world and are a specialty breed of orange that is only available for a couple of months out of the year.
Now it's fair to say we love Oranges at our distillery! We harvest the bitter oranges that you find in each bottle of 44°N from trees found in Grasse, our team of botanical experts then lovingly peel and dry them so we can extract the very best oils. So we asked ourselves, festive oranges and cocktails, what can we do......?
Naturally we looked to that classic French master of orange, Grand Marnier. You will discover through this recipe (if you haven't already of course) Grand Marnier's reincarnation of Cuvée Louis Alexandre. It is a blend of 82% VSOP Cognac and 18% bitter, aromatic bigaradia orange liqueur. Rich and smooth, the palate offers notes of candied orange, vanilla and zesty citrus, before a finish of caramel, bergamot and rich oak. What's not to love!?
So we've kept this one simple to let the 2 main acts shine and have created for you a very delectable gin & tonic that focuses on the orange with a little juicy end note of clementine courtesy of Fever-tree.
We hope you enjoy this simple cocktail, be sure to share your pictures with us on instagram @44ngin!
Lady Clementine G&T
INGRÉDIENTS
50 ml 44°N Gin
25 ml Grand Marnier Cuvee Louis Alexandre Liquor
20 ml Lemon juice
Clementine Tonic Fever Tree
MÉTHODES
---
1
/ Add Ice to chill your Highball glass
2
/Measure and pour 44°N and Grand Marnier CLA Liquor spirits into a shaker, shake gently to blend
3
/ Juice your lemon with a Mexican elbow (any juicer will work just as well)
4
/ Build over ice and top-up with Clementine tonic water
5
/ Garnish with a slice of lemon and/or some clementine segments (*TIP: remove the pith from your clementine segments to avoid a stringy looking cocktail). Santé!