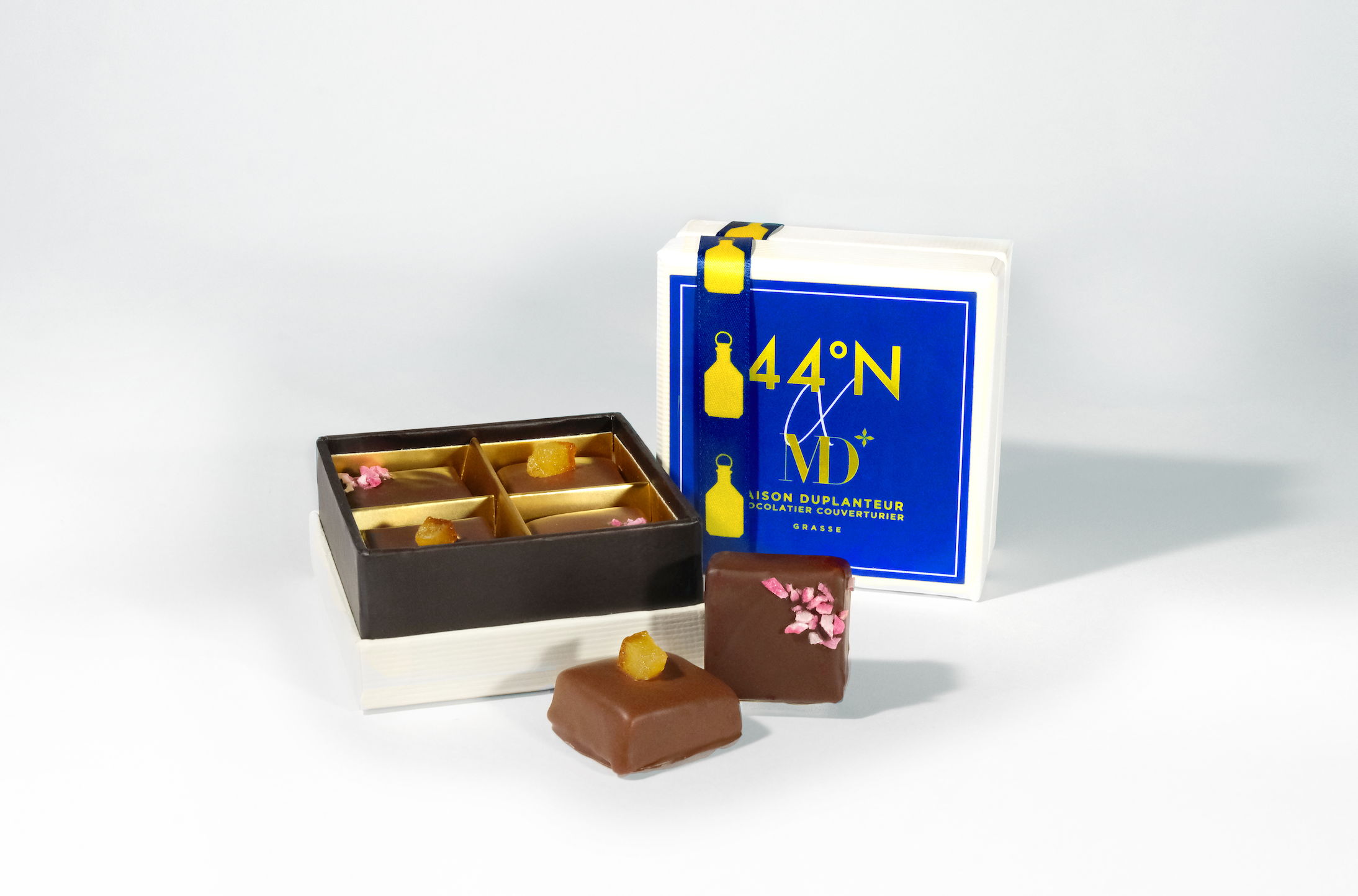 Maison Duplanteur x 44°N Gin
Order Now
To honour May in Bloom and the arrival of Spring, we are celebrating Mother's Day throughout the month of May. Maison Duplanteur and 44°N Gin have come together and shared the 'savoir faire' of Grasse to curate an exquisite box of Artisanal Chocolates.
Maison Duplanteur Chocolatier, located in the historic center of Grasse, develops its recipes passion and délicatesse, handcrafting each chocolate to be velvety smooth and bursting with flavours reminiscent of the region.
Their products are organic, made in adoration of natural ingredients. We share the same endearment to seasonal produce as it is fundamental to both our creation processes. So of course it felt natural to celebrate our seasonal botanicals in the making of these bespoke chocolates.
The Rose Centifolia, also known as the muse and jewel of the perfumers in Grasse, is a rare botanical that only flowers three weeks a year from mid-May until mid-June in the region. The May Rose is one of the star botanicals found in 44°N Gin, bringing it's sensual floral notes and rich flavour into the body of the liquid.
The Bitter Orange grows abundantly on the French Riviera and as some may know brings the jammy facets and citrus notes to our gin. With these two elements in mind, Maison Duplanteur have curated this beautiful box set, highlighting these delicious flavours and encapsulating them in smooth, rich chocolate which elegantly melt in your mouth!
A meaningful partnership, Alex Simone and 44°N both express the know-how and mastery of Grasse's perfumers by highlighting the region's heritage, the rare plants that express themselves thanks to an exceptional climate, each offering the aromas of the Mediterranean...
We are pleased to announce that every Bottle of 44°N Gin ordered this month will receive a complimentary and exclusive box of chocolates curated by Maison Duplanteur.
Treat yourself and the Mums out there to an all encompassing, delicious and sensorial trip into the heartland of Grasse!
Order now