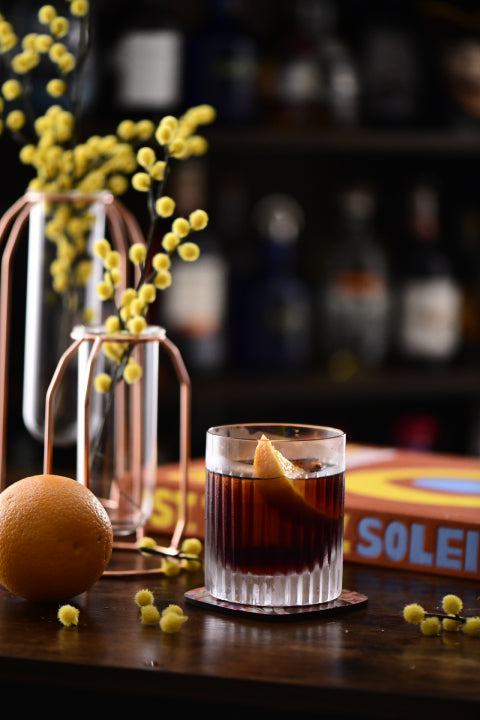 When we set about creating 44ºN Gin, Marie-Anne our Master Distiller and Innovator and I would spend hours in the lab. Not only did she individually distill over 200 botanicals before we started to layer our citrus and flower botanicals that we are now famous for but also she became a mini-cocktail maker. Using pipettes we would make 3 classic drinks to ensure our Gin would stand up in ours and yours favourite gin classics - The G&T, The Martini and of course the Negroni.
Here's a little history for you: As legend has it, a mysterious Italian Count, Camillo Negroni, was known to frequently order a drink called an Americano, a cocktail traditionally made with Campari, sweet vermouth, and soda water that was garnished with a lemon peel. One day, Negroni came into a café and asked for an Americano with gin instead of soda. A bold and genius move we think!
The bartender, Fosco Scarselli, added a twist of orange rather than the Americano's typical lemon peel and, in that very moment, the eponymous Negroni was born, in Florence, Italy
Perhaps it's because it is only 640 km to drive from Grasse to Florence or perhaps it's because it's our Founders favourite cocktail but this Negroni can be most often heard as the cocktail request from our team in the South of France. In this French version we use "Amer Picon" (or Picon Amer) instead of Campari. This is a bittersweet French aperitif with a unique orange flavour made from orange peels, gentian root, and cinchona
We hope you enjoy this French twist on this simply built cocktail, be sure to share your pictures with us on instagram @44ngin and tell us how you like to serve 44ºN. Salute!!
FRENCH NEGRONI
INGRÉDIENTS
35 ml 44°N Gin
10 ml Dolin Rouge
10 ml Lillet Rouge
20 ml Amer Picon
3 dashes Orange Bitters (We like: Bitter des Basques by La Liquoristerie de Provence) Fresh Orange for garnish
Large Ice cube
MÉTHODES
---
1
/ Chill a Rocks glass with ice
2
/ Gradually measure and pour all ingredients into a mixing glass
3
/Add large ice cubes to your liquid in the mixing glass and stir (*TIP: if you prefer it sans ice, strain into a chilled Coupette)
4
/Put a Hawthorne strainer over the lip of the mixing glass
5
/Strain over ice in a rocks glass. Garnish with an orange peel. (*TIP 2: gently twist the orange peel over the drink to release the oils before sliding into the glass) .Santé!